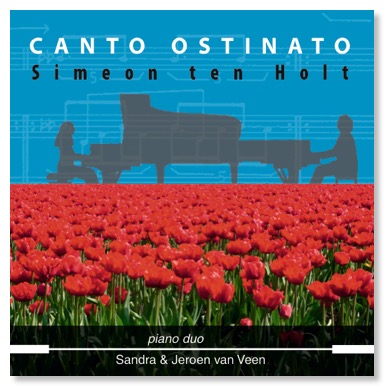 Canto Ostinato for two pianos

Composer: Simeon ten Holt
Performers: Piano Duo Sandra en Jeroen van Veen on two grand pianos

Simeon ten Holt: 'The best recording ever'
Duration: 79'11" (different from previous recording, now with composer edits) (DDD)
Recording: Concertzaal, Middelburg 2008






one track



several tracks

CANTO OSTINATO
The first performance of Canto Ostinato took place on April 25th 1979 in the Ruïnekerk in Bergen (The Netherlands) and was realized using three pianos and an electronic organ. Canto stems from a traditional source, is tonal and makes use of functional harmony, it is built according to the laws of cause and effect (tension-release). Although all parts of Canto have their fixed position in its progress and are not interchangeable without violating the melodic line, the internal logic and form, beginning and end do not have absolute meaning as boundaries, of form. Time plays an important role in Canto. Although most bars or sections feature repeat signs and although the performer(s) decide(s) on the number of repeats, one cannot speak of repetition-as-such. Repetition in this case has as its goal to create a situation in which the musical object affirms its independence and can search for its most favorable position with respect to the light thrown on it, becoming transparent. Time becomes the space in which the musical object floats. The performers have a wide margin of contribution. They decide about dynamic contrast, duration (in detail as well as for the whole), about the use of opposing or non-opposing timbre differentiations, whether or not to play passages in unison. A performance of Canto is more like a ritual experience than a regular concert. Simeon ten Holt about this release: 'the best recording ever'

SIMEON TEN HOLT
Simeon ten Holt was born in Bergen, The Netherlands, 24 January 1923. He studied with Jakob van Domselaer, eventually developing a highly personal style of music. Ten Holt generally uses consonant, tonal materials and his works are organized in numerous cells, made up of a few measures each, which are repeated ad libitum according to the player's preference. Many of Ten Holt's works employ harmonies quite similar to those used by European composers of the Romantic period. Thus, his style of minimal composition is truly European in its orientation and has been little influenced by North American minimal composers, whose works draw more often on rock, jazz, and world musics. Van Domselaer's influence on ten Holt's musical philosophy has been considerable, with the younger composer picking up van Domselaer's interests in the links between music and visual art, in music's relationship with mathematics, and in the use of the piano as a principal instrument in his compositions. The music by Ten Holt is unique and attracts a new audience to classical music.

PIANO DUO SANDRA & JEROEN VAN VEEN
Sandra Mol (1968) and Jeroen van Veen (1969) met at the conservatory in Utrecht in 1987. Since then they play together sharing their passion for multiple piano music. Their first Cd was a live recording presenting Canto Ostinato for two pianos by the Dutch "minimalist" Simeon ten Holt. This Cd was sold in more than 40 countries worldwide. Concerts and recitals brought Sandra & Jeroen from Miami to Novosibirsk. They are initiators of many concert series, among them the Amsterdam Concertgebouw and the Lek Art Festival in Culemborg. They recorded over 45 Cds in the last ten years. Besides playing piano they teach, adjudicate, compose music, and produce many different concert programs on a variety of common and uncommon concert locations such as railway stations.

Recorded Concertzaal, Middelburg