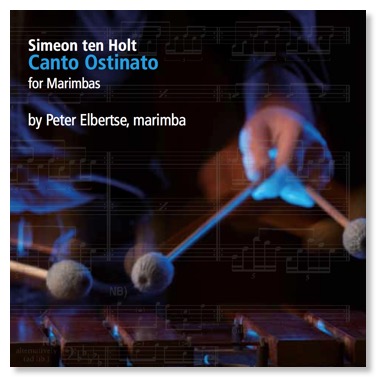 Cd Canto Ostinato marimbas

Composer: Simeon ten Holt
Performer: Peter Elbertse, marimba

Duration: 74'32 (DDD)
Recording: Recorded in 2012, Culemborg by Jeroen van Veen (Van Veen Productions.com)
€ 20 - € 25 excluded shipping/mailing
Released: 13-4-2012


Canto Ostinato (1976-1979)

The first performance of Canto Ostinato took place on April 25th 1979 in the Ruïnekerk in Bergen (The Netherlands) and was realized using three pianos and an electronic organ. Canto stems from a traditional source, is tonal and makes use of functional harmony; it is built according to the laws of cause and effect (tension-release). Although all parts of Canto have their fixed position in its progress and are not interchangeable without violating the melodic line, the internal logic and form, beginning and end do not have absolute meaning as boundaries, of form. Time plays an important role in Canto. Although most bars or sections feature repeat signs and although the performer(s) decide(s) on the number of repeats, one cannot speak of repetition-as-such. Repetition in this case has as its goal to create a situation in which the musical object affirms its independence and can search for its most favorable position with respect to the light thrown on it, becoming transparent. Time becomes the space in which the musical object floats. The performers have a wide margin of contribution. They decide about dynamic contrast, duration (in detail as well as for the whole), about the use of opposing or non-opposing timbre differentiations, whether or not to play passages in unison. A performance of Canto is more like a ritual experience than a regular concert. The piece was written for any keyboard or any combination of keyboards. On this Cd the piece is performed on several marimbas performed by one performer.

Marimba
Origin of Marimba is not known, but it seems it started off as wooden bars laid over a hole on the ground which was struck with sticks. In the myth of Zulus (of South Africa), there is a tale about a goddess called "Marimba" who made an instrument by hanging gourds below wooden bars. It sometimes is referred to as the source of the name of the instrument. Marimba, which was born in South Africa, was brought to South America in the early 16th century by the Africans who were taken there as slaves(*). There, a Guatemalan called Sebastian Hurtado made a Marimba with a wooden resonator pipe instead of gourd. This formed the basis of the modern marimba. Marimba, which was improved in South America was brought to the United States eventually, and they started to make marimba around 1910. Deagan of Chicago changed the wooden pipe to the metal pipe. Numerous other improvements were made since then including the rearrangement of the keytop to resemble the piano. Modern Marimba is now treated not only as an orchestra instrument but also as a solo instrument thanks to the louder sound achieved by the pipe. The modern instrument usually has rose wood keyboard with brass pipe resonators. Range differs from an instrument to another, but 4+1/2 to 5 octaves ones are most popular. Major makers of modern marimba includes Musser, Concorde, Yamaha, Korogi, Saito, Marimba One, Malletech etc.


Peter Elbertse

Peter Elbertse studied percussion at the 'Sweelinck Conservatorium' in Amsterdam. Currently, he is principal timpani player of the 'Netherlands Philharmonic Orchestra' and the 'Dutch Chamber Orchestra'. Peter is passionately fond of everything connected with rhythm and percussion and explores possibilities for new musical trends. He organized a percussion festival for years and was closely associated as an advisor with the Foundation 'Lek Art' in Culemborg. Peter organizes or participates in the following projects (in which percussion often plays an important part): NedPho Jazz Quartet (line-up piano, vibraphone, drums and bass); Duo with Jeroen van Veen, piano and vibraphone with music of Chick Corea, piano and hang (lounge music & modern beats), Canto Ostinato' (in the line-up for piano's / marimba's) and the 'Carmina Burana' (conducted several times at extraordinary places). Peter's inventions to new percussion instruments and sounds lead to a cd with Jeroen van Veen performing their own pieces for Hang and Piano (PP2023).

Multitrack
For this recording Peter Elbertse played all the layers one by one using the Multitrack recording. Starting with the bass line, each time he added layers to fulfil the score. Producer Jeroen van Veen was present to guide and assist this remarkable percussionist.